The NilePreneurs Compete Initiative – one of the initiatives of the Central Bank of Egypt and implemented by Nile University in cooperation with some agencies and banks – participated in the 14th Creative Industry Summit, from 27-29 September, along with many startups, entrepreneurs and creative agencies.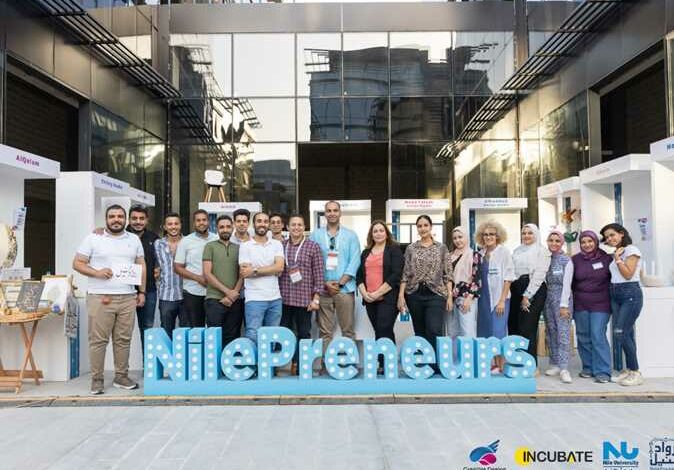 The participation of NilePreneurs came through 10 companies incubated in the creative design business incubator, and working in the fields of furniture manufacturing, handicrafts, product recycling, and Arabic calligraphy: namely Mood, Mozfiber, Al Qalam, Nada Talaat Studio design, Elhdad Design Studio, Tarfa Leathers, Eman Soliman Leathers, Christy Studio, Khmin, and New Egyptian.
They showcased their various creative projects and products, which were well received by the audience including creators, businessmen and pioneers of creative industries in Egypt.
NilePreneurs is eager to help
The initiative's assistant executive director Mohamed Abbas said that NilePreneurs is eager to help start-up companies participate in events that enable them to showcase their products and communicate with investors and various market parties to market their products and increase sales.
He added that the Creative Design Incubator pays great attention to supporting entrepreneurs and emerging companies in the fields of craft, creative industries and designs, and provides a range of services that help them expand, grow and communicate with experts and investors.
Up to 29 companies have been incubated in the Creative Design Incubator sponsored by QNB Al-Ahly Bank, during three cycles, and have overall succeeded in achieving sales of more than nine million LE.
The forum sessions discussed many vital topics in the creative economy in more than 25 fields, such as advertising, advertising, entrepreneurship, arts, design, photography, e-commerce, film industry, music, content industry, in addition to specialized discussions on environmental sustainability.